Exhibition
Dates
October 29 – December 4, 2019
Opening
Reception
Thursday, November 7 from 6-8pm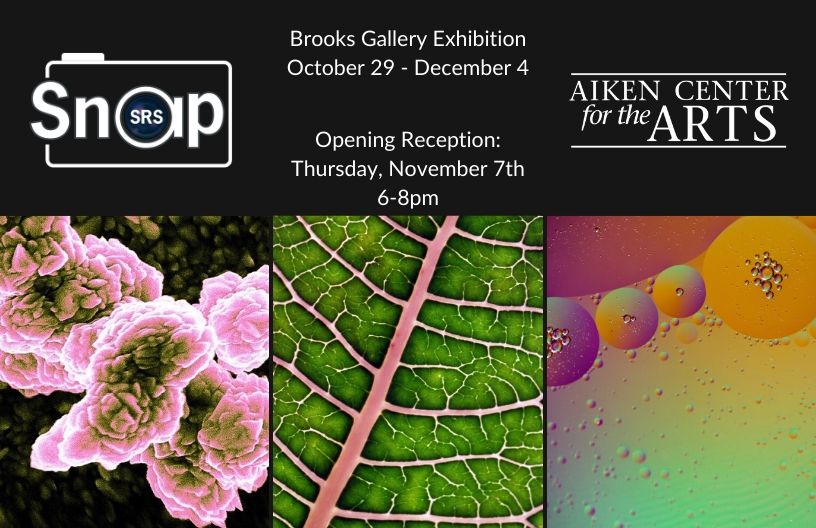 Today, the Savannah River Site has over 11,000 employees from communities in South Carolina and Georgia. Engineering, nuclear science, construction, and law enforcement are some professions that may come to mind. Other areas of expertise include IT, project management, biology, human resources, and business, just to name a few.
A wide range of specialized jobs make up the fabric of SRS, but artistic expression is something everyone has in common.
The Snap SRS exhibit originated from a Compelling Place to Work initiative to promote pride of ownership, improve facility aesthetics and boost workplace morale through art.
During the summer of 2019, all Site personnel had the opportunity to submit their original artwork in four categories: SRS Scenery, Science as Art, Nuclear Knowledge and Local Scenery. Employees could submit up to five images, and 246 eligible entries were received May 7-June 28.
A panel of judges reviewed the submissions anonymously. The jury was comprised of representatives from major site entities including Department of Energy-Savannah River, Savannah River Nuclear Solutions (SRNS), Savannah River Remediation (SRR), Centerra and Savannah River Ecology Laboratory.
After much deliberation, the jurors selected 33 images for display in prominent locations across SRS. These top images were also contenders in the People's Choice Award online poll. During a two-week voting period, 2,137 unique respondents cast their ballot for their favorite artwork in each of the four categories. This phase of judging was also anonymous because the only information available were the images, titles and captions.
The People's Choice Award winners include:
SRS Scenery: Time Will Tell by Sean Havens, SRR Project Controls
Science as Art: Bismuth Crystal by James Therrell, SRNS Materials Disposition Engineering
Nuclear Knowledge: Old Jackson Cemetery by Max Bassett of SRNS Nuclear Material Control and Accountability
Local Scenery: Sunset Over the River by Mark Amidon, Environmental Stewardship/Geosciences, Savannah River National Laboratory
The Snap SRS concept was by SRNS LEAP (Leaders Emerging Among Professionals) members Caroline Reppert and Grace Halverson. The pair pitched the idea during LEAP Shark Tank in 2017, an event that allowed early-career professionals to compete for the most innovative idea to members of senior management and was based on the hit television series Shark Tank.
Overall, the pilot run of Snap SRS demonstrates how a highly technical workforce possesses the talent to create beautiful photography. "