Catherine Ryder
Why do I paint?  Because it's something in me, that I can do. I have the ability to work on meticulous details in a solitary manner. Painting is a retreat from having to be among people.  Though I love the activity of exchanging ideas and energy with people (especially through music and dance), I also crave time spent alone in my world of imagery.
I enjoy doing portraits and figures, as well as birds, animals and landscapes. I love color, and beauty.  I seek it everywhere.  I see things, juxtapositions of light and color, sometimes gorgeous, sometimes whimsical or odd.  Some things just speak to me.  And my work is a way for me to show them to you.
Birds are my first love, since childhood.  Birds, flying, feathers, wind, air.  I love the feathers from birds, all the colors and patterns.  Birds seem to be spirits of the wind, spirits from the sky, voices of the angels.  They are messengers from the soul, the heart, the spirit.  Messengers from my soul.
I like working in acrylic paint because I can build it, change it, and work it till it becomes right. I see things in nature that I want to show you. Visions, some from dreams, hints of images emerging from darkness, with murky edges. These are all things I want to show you in my paintings. I paint what I see in my mind or my eyes, so you can see it too. When I am creating a painting, I am inside the painting, living in the world I am depicting. I hope you will find something in my work that will speak to you.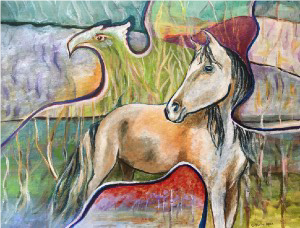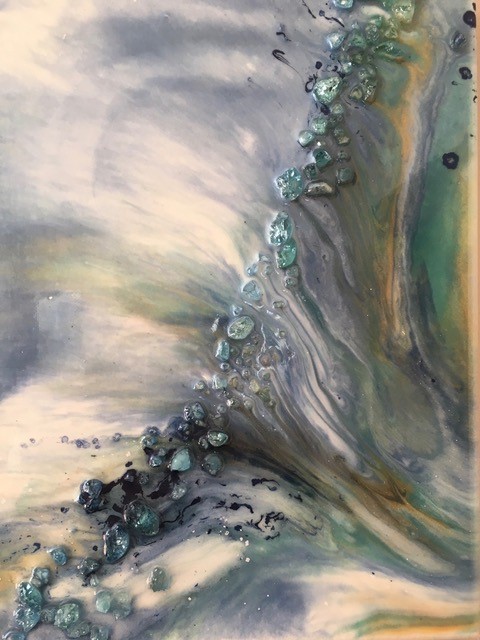 Gisela Sirrenberg
As an artist, I work hard to develop paintings that express my love of colors, color compositions and color patterns. These paintings – Acrylic Pours and Resin Pours speak as much to me as they should to the viewer.
I use a lot of different techniques: Dutch Pour, Dirty Pour, Puddle Pour, Swipes, etc. and love when the colors form "relationships" and patterns, each time so very different, even if I use the same color combinations. I also like to add pebbles or crystals to the Resin Pours, which give the paintings a different expression and substance.
My paintings are inspired by art I see and admire every time I work at the Center for the Arts. I would like people to look at my art and not seek a deeper meaning, but to just be happy! Somebody said once: " art is visual poetry", I think it is.